Y'all that know me are aware that I'm not a big fan of the chip in button. Especially for those who drive Escalades, take expensive family vacations and/or own very expensive cameras. LOL! But my very good friend,
Kris
, has taken some pretty big and unexpected financial hits recently and if anyone deserves a little help... it's her. So I'm stepping up to do my part. I hope everyone else out there will, too.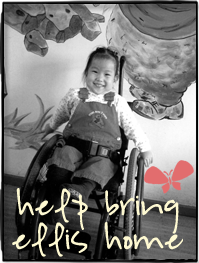 There's a fabulous raffle full of spectacular prizes. There's also an auction for some pretty cool stuff that you can bid on. Please click over and help
Kris
raise the funds to bring her beautiful Ellis Gao Mei home.